Ultimate GPS Bike Computer with Navigation and Connected Features 
3.5" bike computer with comprehensive navigation, performance and cycling awareness features
Trendline™ popularity routing uses billions of miles of Garmin Connect™ ride data to show the best on- and off-road routes
Preloaded Garmin Cycle Map provides turn-by-turn directions and new navigation alerts
New rider-to-rider messaging¹ lets you stay in contact with other cyclists in your group
Challenge yourself every ride with newly updated preloaded Strava Live Segments feature
Battery life: up to 20 hours², extendable up to 40 hours with the optional Garmin Charge™ power pack

Ride longer and stronger while staying connected with the Edge 1030 GPS cycling computer. It features Trendline popularity routing, which uses billions of miles of rider data to show you the best on- and off-road routes. Whether you're a competitor, commuter or an adventure-seeker, we've found a better ride for you.
Create the Ultimate Cycling Hub
Edge 1030 includes the latest navigation tools and is compatible with our expansive line of cycling accessories that let you measure key aspects of your performance, and awareness add-ons that can help create a safer riding environment. You can build your perfect ride network with Garmin, and it all starts with an Edge.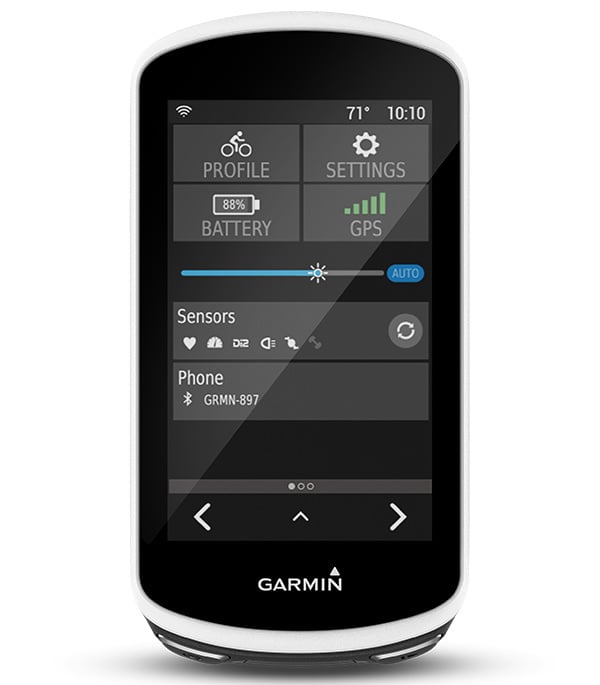 Popularity Routing Knows Where Riders Go
Since the Garmin Connect online community was created, cyclists have uploaded billions of miles of ride data. It's time to put that data to good use with Trendline popularity routing technology. When Edge 1030 generates a ride for you, it finds the best route — choosing from the roads (and trails) most traveled by your fellow cyclists. Or, use the improved and revamped Course Creator in Garmin Connect to generate additional bike-friendly routes based on popularity data.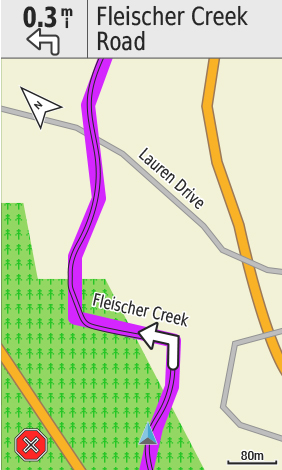 Advanced Navigation with Garmin Cycle Map
Garmin is your guide, whether you like to ride on the road or off. Edge 1030 bike computer is preloaded with the Garmin Cycle Map and includes turn-by-turn navigation and new navigation alerts that notify you of upcoming sharp turns. While you ride, get information about elevation data, see points of interest and search for addresses. Round-trip routing will even generate a route for you. Simply tell Edge 1030 a distance and a starting direction, and it will give you a choice of up to 3 routes. And, of course, it's smart enough to guide you back to the route if you deviate from it. When you're planning long rides, you can count on your Edge 1030. It gets up to 20 hours of power, and with the new Garmin Charge integrated battery pack, you can keep your Edge running as long as you do.
Messages From Rider to Rider
No need to reach for the phone or worry about your fellow riders when they pull ahead or fall behind. Rider-to-rider messaging lets you send prewritten notes from your Edge 1030 to theirs. Let your friends know if you'll catch up in a few minutes or if they should go on without you. If you have a flat tire or need assistance, you can send a message to your fellow riders paired with GroupTrack³ — so they can find you.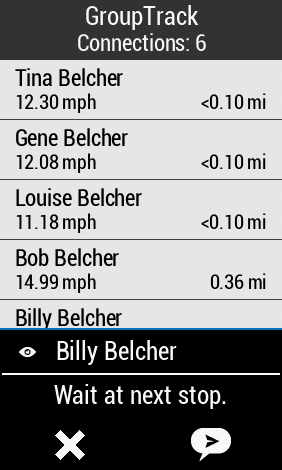 Smart Connectivity
Edge 1030 keeps you connected in other ways, too. Respond to missed phone calls or texts with prewritten messages4 such as "be home soon." Give your friends and family — even your fellow riders — peace of mind by letting them follow your rides in real time with LiveTrack and GroupTrack. Take advantage of automatic uploads to Garmin Connect, download free apps and widgets from the Connect IQ™ store, and even connect to Wi-Fi® for easy device software updates.
Ride with Confidence and Ease
Edge 1030 works with our new in-line flush mount, which keeps your device in line with the handlebars, not above them. Not only does this give your Edge a lower profile, the mount also makes it effortless to switch out optional accessories such as the Garmin Charge power pack or any of our Varia™ line of cycling awareness devices. Edge 1030 is compatible with Varia rearview radar and smart bike lights to help create a safer riding environment. It also features built-in Incident Detection5, which automatically sends your location to an emergency contact if you run into difficulty.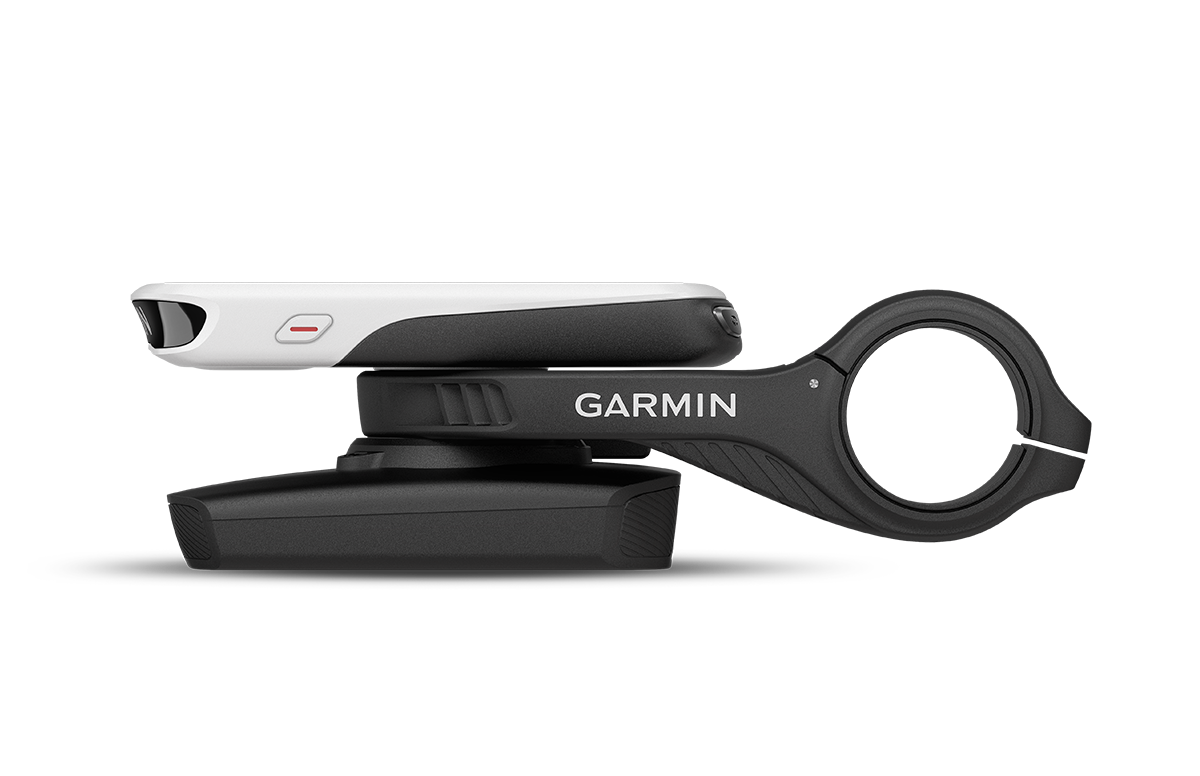 Strava Live Segments Help You Push to Perform
Garmin and Strava are bringing you even more ways to test your limits. You'll still get alerts for segment starts and finishes and be able to virtually compete against your own PR and Strava friends with a redesigned second-by-second comparison that shows how you measure up. But now you'll also be able to see how your current effort compares to your PR, your most recent efforts or the personal bests of your friends. And the new Segment Explore feature lets you view popular and Marquee Segments around you, directly on your Edge.
And finally, with the new preloaded Strava Routes Connect IQ app, starred routes can now be wirelessly sent to your Edge so you can navigate and compete on your favorite Strava segments at the same time6.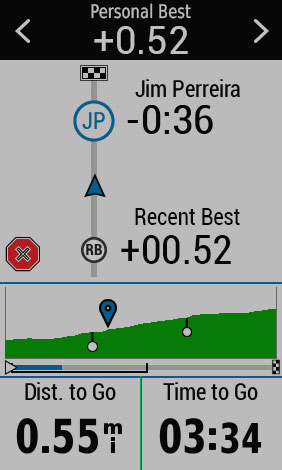 From Plan to Performance with TrainingPeaks
With the TrainingPeaks Connect IQ app, bringing your planned workout with you for every ride is as easy as turning on your Edge 1030. The preloaded app puts your daily workout right on the Edge device. It guides you through your workout in real time, complete with intensity targets and interval durations. After your workout, sync to TrainingPeaks for detailed analysis and to measure progress toward your goals. Create a free TrainingPeaks account, and get started with a free training plan.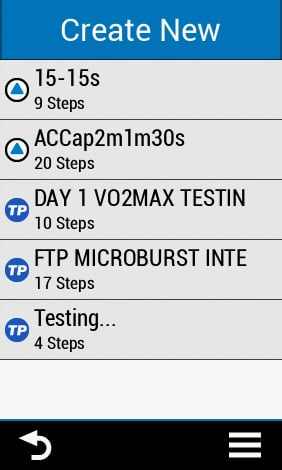 Personalized Race Day Power Plan from Best Bike Split
Best Bike Split allows you to see how changes in weight, power and drag can affect your goal race time and creates the perfect power plan for race day. With the Best Bike Split Race Sync app, your race day power plan will guide you to your best bike split ever. Simply link your Best Bike Split account with your Edge 1030, and all of your current race plans will be available at your fingertips. Create a free Best Bike Split account today, and get started planning your perfect race day strategy.
Customize Your Device
It's easy to customize Edge 1030 with the free apps, widgets and data fields you want from our Connect IQ store. Apps such as AccuWeather let you know when the rain is going to stop so you can find time for a ride. Get immediate feedback with the MPA and Power app from Xert so you can see if you're exceeding your maximum power available. A variety of configurable data fields show your favorite stats on 1 easy-to-see screen.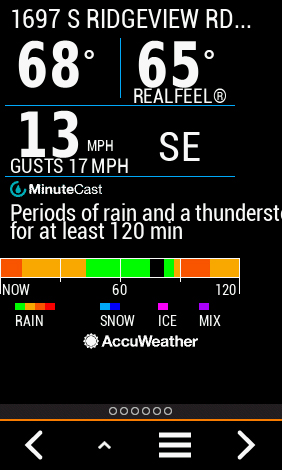 ¹When paired with a compatible smartphone
²Battery life may vary depending on usage
³When paired with a compatible smartphone; GroupTrack can track up to 50 riders
4Available on Android™ devices only
5When paired with a compatible smartphone; primarily designed for road cycling use
6Requires Strava Premium membership. Purchases of Edge 1030 receive a free 60-day trial of Strava Premium.
Wi-Fi® is a registered trademark of the Wi-Fi Alliance. Android™ is a trademark of Google Inc.
General
| | |
| --- | --- |
| Physical dimensions | 58 x 114 x 19 |
| Weight | 123 g |
| Water rating | IPX7 |
| Battery | rechargeable lithium-ion |
| Touchscreen | Yes |
| Display size | 3.5" (88.9 mm) |
| Display resolution | 282 x 470 pixels |
| Color display | Yes |
| Battery life | up to 20 hours |
Maps & Memory
| | |
| --- | --- |
| Ability to add maps | Yes |
| Basemap | Yes |
| Storage and Power Capacity | 16 GB plus microSD™ |
| Waypoints/favorites/locations | 200 |
| Routes | 100 Courses |
| History | up to 200 hours |
Clock Features
Sensors
| | |
| --- | --- |
| GPS | Yes |
| GLONASS | Yes |
| Barometric altimeter | Yes |
| Accelerometer | Yes |
Daily Smart Features
| | |
| --- | --- |
| Smart notifications | Yes |
| VIRB® remote | Yes |
Activity Tracking Features
Training, Planning and Analysis Features
| | |
| --- | --- |
| Customizable data pages | Yes |
| Auto Pause® | Yes |
| Advanced workouts | Yes |
| Auto Lap® | Yes |
| Virtual Partner | Yes |
| V02 max | Yes |
| Training Effect (aerobic) | Yes |
| Race an Activity | Yes |
| Auto scroll | Yes |
Cycling Features
| | |
| --- | --- |
| Courses (compete against previous activities) | Yes |
| Time/distance alerts (triggers alarm when you reach goal) | Yes |
| Interval training | Yes |
| Compatible with Vector™ (power meter) | Yes |
| Power meter compatible (displays power data from compatible third-party ANT+™-enabled power meters) | Yes |
Garmin Connect™
| | |
| --- | --- |
| Garmin Connect™ compatible (online community where you analyze, categorize and share data) | Yes |
| Automatic sync (automatically transfers data to Garmin Connect) | Yes |
Additional
Additional

Recovery Advisor
Connectivity: Wi-Fi®, ANT+™, Bluetooth®
Ambient light sensor
Integrated in-ride power capable
Set-up streamlined via app
Physiological measurements
Advanced power
Segments: Strava
Connected capability: Upload, LiveTrack, weather, notifications, incident detection, GroupTrack, audio prompts, rider to rider messaging
3rd-party app access: via Connect IQ™, including preloaded Strava and Training Peaks
Preloaded Garmin Cycle Map
FTP / watts/kg tracking
Training status/training load
Navigation via device, apps, popularity routing and recalculation
Open API available with select partners
 
Standard (Device Only)
Edge 1030
Mounts (standard and extended out-front)
USB cable
Tether
Manuals
Bundle
Edge 1030
Premium heart rate monitor
Cadence sensor
Speed sensor
Mounts (standard and extended out-front)
USB cable
Tether
Manuals


Le compteur GPS de vélo haut de gamme, nouvelle génération.
Compteur de vélo de 3,5 pouces avec fonctions complètes de navigation, de performances et d'aide aux cyclistes
Le générateur d'itinéraires populaires Trendline™

 

exploite les données des milliards de kilomètres parcourus par les utilisateurs de Garmin Connect™

 

pour vous indiquer les meilleurs itinéraires sur et hors route
La carte Garmin Cycle Map intègre le guidage vocal et fournit de nouvelles alertes de navigation
La nouvelle fonction d'envoi de messages entre cyclistes1

 

vous permet de rester en contact avec les autres cyclistes de votre groupe
Lancez-vous des défis chaque jour grâce à la fonction Strava Live Segments préchargée et récemment mise à jour
Autonomie de la batterie : jusqu'à 20 heures2, ou jusqu'à 40 heures grâce au pack d'alimentation Garmin Charge™

 

en option
Pédalez plus longtemps et plus efficacement tout en restant connecté grâce compteur de vélo GPS Edge 1030. Il intègre le générateur d'itinéraires populaires Trendline qui exploite les données des milliards de kilomètres parcourus par les utilisateurs pour vous indiquer les meilleurs itinéraires sur et hors route. Que votre vélo vous accompagne en compétition, lors de vos trajets quotidiens ou lors de vos aventures, vivez une nouvelle expérience.
Créez votre compteur de vélo idéal
L'Edge 1030 inclut les derniers outils de navigation et est compatible avec notre large gamme d'accessoires cycle conçus pour vous aider à mesurer des métriques de performances clés. Il peut aussi intégrer les modules d'aide aux cyclistes qui vous permettent de sécuriser au mieux votre environnement.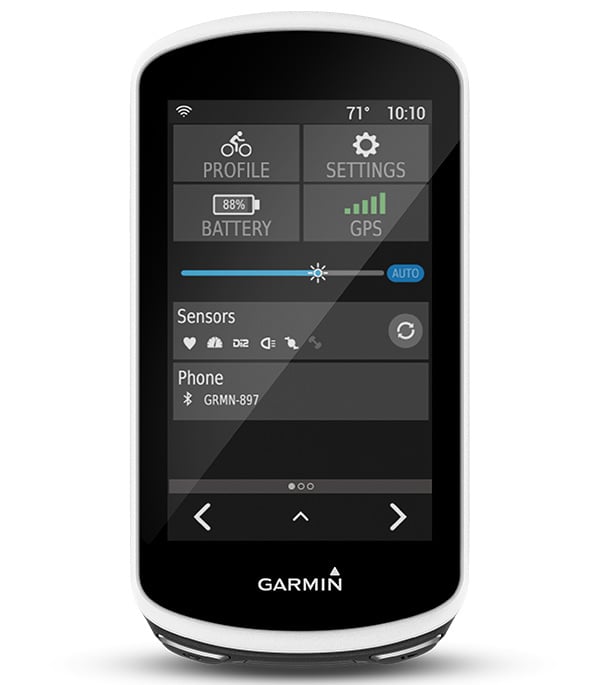 Fonction de création d'itinéraires populaires
Depuis la création de la communauté en ligne Garmin Connect™, les cyclistes ont téléchargé des milliards de kilomètres de parcours. Avec la technologie de création d'itinéraires Trendline, Garmin met enfin ces données à profit. Lorsque votre Edge 1030 génère un parcours, il recherche les meilleures routes et pistes, celles qui sont les plus fréquentées par les cyclistes comme vous. Vous pouvez aussi utiliser la fonction Création de parcours récemment mise à jour et améliorée de Garmin Connect pour générer d'autres itinéraires cycle basés sur des données de popularité.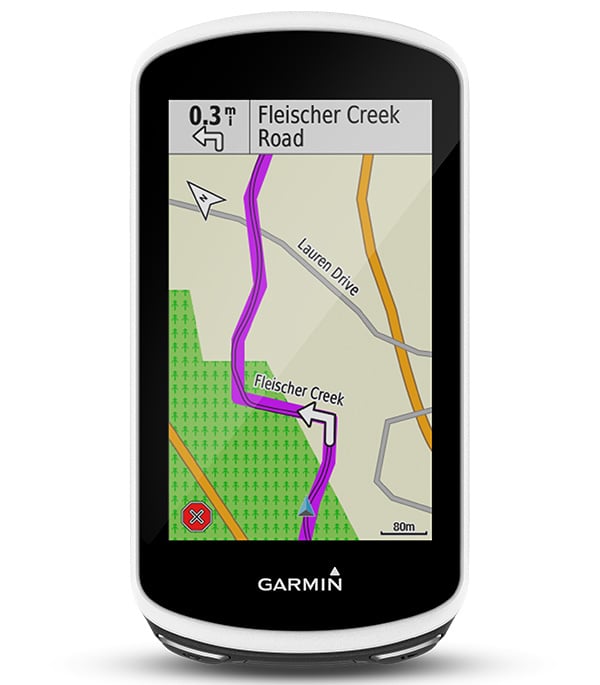 Navigation avancée avec Garmin Cycle Map
Garmin vous guide, que ce soit sur la route ou sur les petits sentiers accidentés. Le compteur de vélo Edge 1030 intègre la carte Garmin Cycle Map qui fournit un guidage vocal ainsi que de nouvelles alertes de navigation qui vous indiquent les virages serrés sur votre route. Pendant que vous roulez, vous pouvez obtenir des données sur l'altitude, voir les points d'intérêt et rechercher des adresses. Vous pouvez également générer un itinéraire aller-retour. Pour ce faire, indiquez simplement à votre Edge 1030 une distance et une direction de départ et votre compteur vous proposera jusqu'à trois itinéraires. Et bien sûr, si vous vous égarez, votre appareil saura vous remettre sur la bonne route. Vous pouvez toujours compter sur votre Edge 1030, même lorsque vous prévoyez de longs trajets. Il dispose d'une autonomie de 20 heures et grâce au nouveau pack d'alimentation Garmin Charge, vous pouvez la prolonger pour que votre Edge soit aussi infatigable que vous.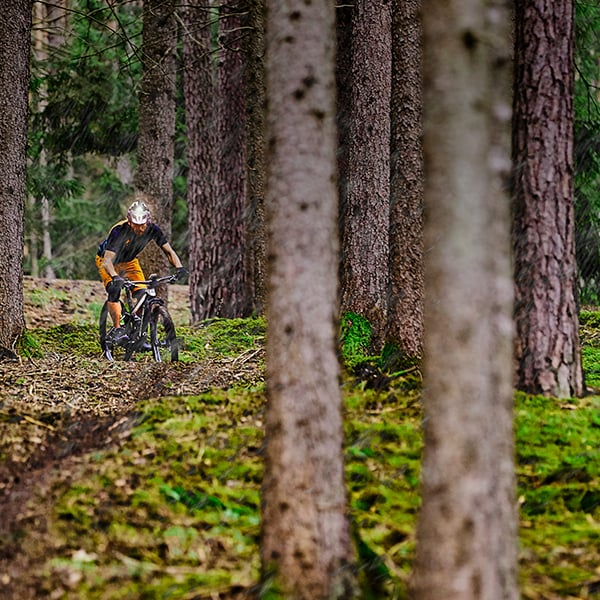 Envoi de messages entre cyclistes
Plus besoin d'attraper votre téléphone ou de vous faire du souci pour les cyclistes qui se sont détachés du peloton. La fonction d'envoi de messages entre cyclistes vous permet d'envoyer des messages prérédigés depuis votre Edge 1030 sur leur compteur Edge. Vous pouvez ainsi demander à vos amis de vous attendre quelques minutes ou de partir sans vous. Si vous avez crevé ou que vous avez besoin d'aide, vous pouvez envoyer un message à vos compagnons de route via GroupTrack3, pour qu'ils puissent vous retrouver.
Connexions intelligentes
L'Edge 1030 vous propose aussi d'autres fonctions pour rester connecté. Vous pouvez répondre à des appels ou messages manqués à l'aide de messages prérédigés4 tels que « Je rentre bientôt ». Rassurez vos amis, votre famille et même vos compagnons de route en leur partageant vos parcours en temps réel via LiveTrack et GroupTrack. Profitez de la fonction de téléchargement automatique des données sur Garmin Connect, téléchargez des applications et widgets gratuits depuis la boutique Connect IQ™ et connectez-vous au réseau Wi-Fi® pour simplifier la mise à jour du logiciel de votre appareil.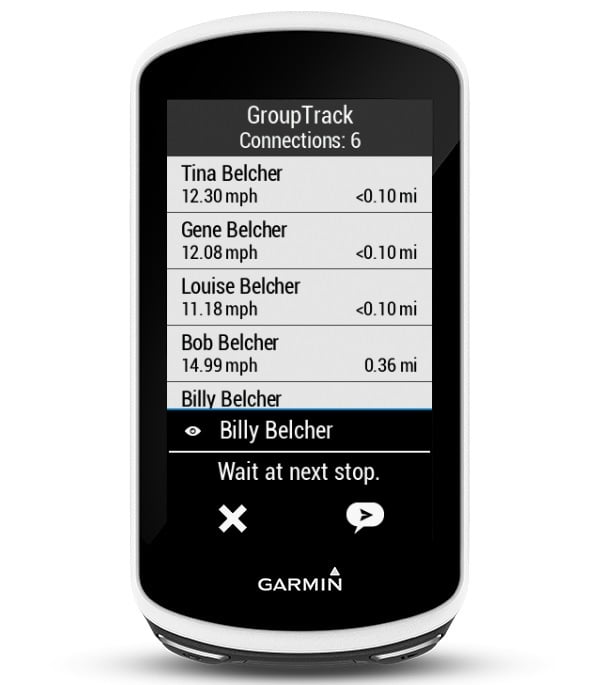 Pédalez confortablement en toute tranquillité
L'Edge 1030 est compatible avec notre nouveau support plat évolutif qui vous permet de positionner l'Edge au même niveau que le guidon et pas au-dessus. Ce support est plus discret et il vous permet aussi d'intégrer facilement des accessoires, comme le pack d'alimentation Garmin Charge ou l'un de nos appareils d'aide aux cyclistes de la gamme Varia™ . L'Edge 1030 est compatible avec le radar arrière et les feux intelligents Varia, afin de vous aider à sécuriser votre environnement. Il intègre aussi la fonction de détection automatique d'incident5 qui envoie automatiquement votre position à un contact d'urgence si vous deviez rencontrer des problèmes, comme une chute.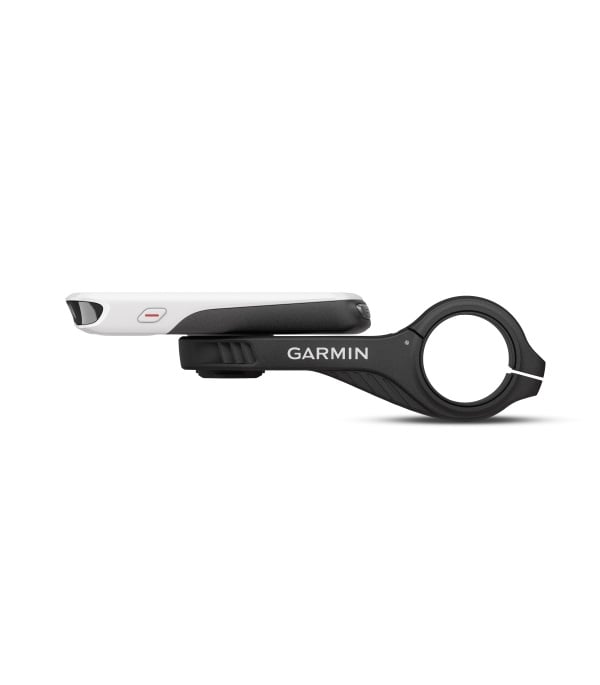 Dépassez-vous avec Strava Live Segments
Garmin et Strava vous proposent de nombreux défis pour tester vos limites. Vous pouvez recevoir des alertes au début et à la fin de chaque segment et vous mesurer virtuellement à vos amis de la communauté Strava en comparant vos temps, seconde par seconde, sur des graphiques entièrement repensés. De plus, vous pouvez désormais comparer vos performances à vos records personnels, à vos plus récentes performances ou aux records de vos amis. La nouvelle fonction Explorateur de segments vous permet d'afficher directement sur votre Edge les segments populaires et vedettes autour de vous.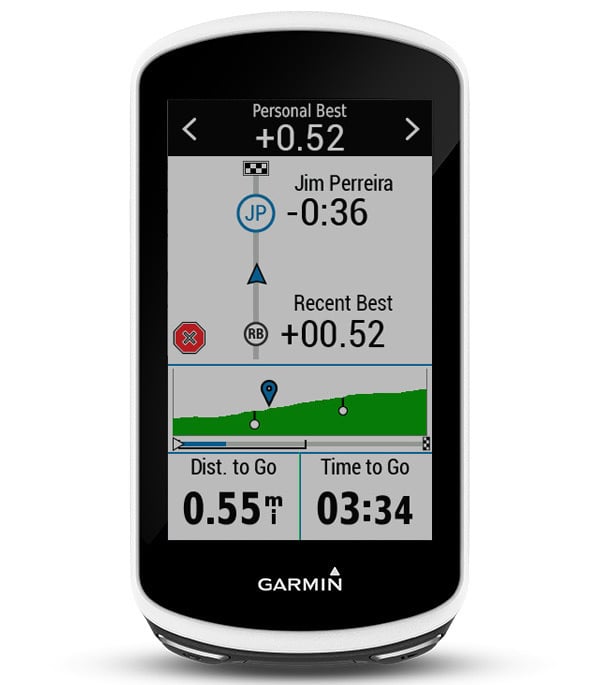 Boostez vos performances avec TrainingPeaks
Avec l'application TrainingPeaks disponible sur Connect IQ, vous pouvez facilement embarquer sur votre Edge 1030 l'entraînement que vous avez planifié lors de chacune de vos sorties à vélo. L'application préchargée transfère votre entraînement quotidien directement sur votre compteur Edge. Elle vous guide tout au long de votre entraînement et vous indique vos objectifs d'intensité ainsi que la durée de vos intervalles. Une fois votre entraînement terminé, synchronisez vos données avec TrainingPeaks pour obtenir des analyses détaillées et mesurer vos progrès. Créez un compte TrainingPeaks gratuit et suivez un plan d'entraînement gratuit (en anglais).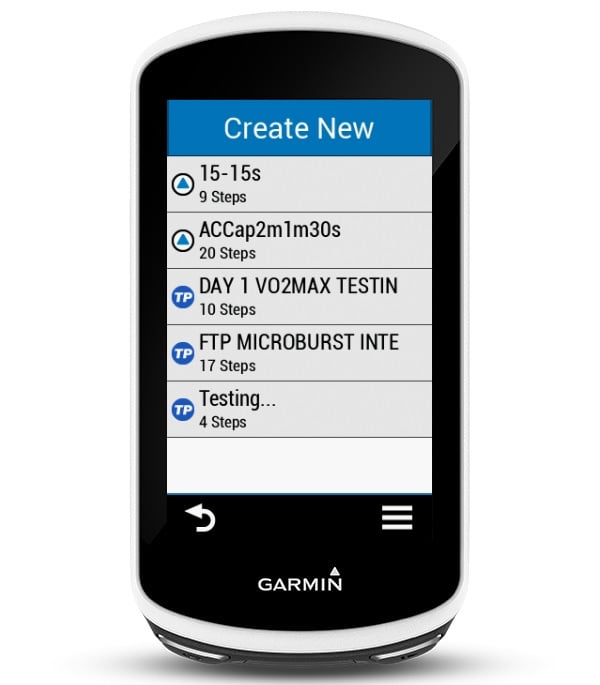 Des plans d'entrainement personnalisés pour vos courses avec Best Bike Split
Best Bike Split vous permet de comprendre comment des changements de poids, de puissance et de résistance peuvent affecter vos temps et vous aide à concevoir le plan d'entrainement idéal pour vos courses. Avec l'application Best Bike Split Race Sync, votre plan d'entrainement vous permettra d'obtenir le meilleur temps possible lors de vos épreuves à vélo. Associez simplement votre compte Best Bike Split avec votre Edge 1030 et tous vos plans de course actuels seront accessibles à portée de main. Créez gratuitement un compte Best Bike Split (en anglais) dès aujourd'hui et commencez à concevoir votre meilleure stratégie de course.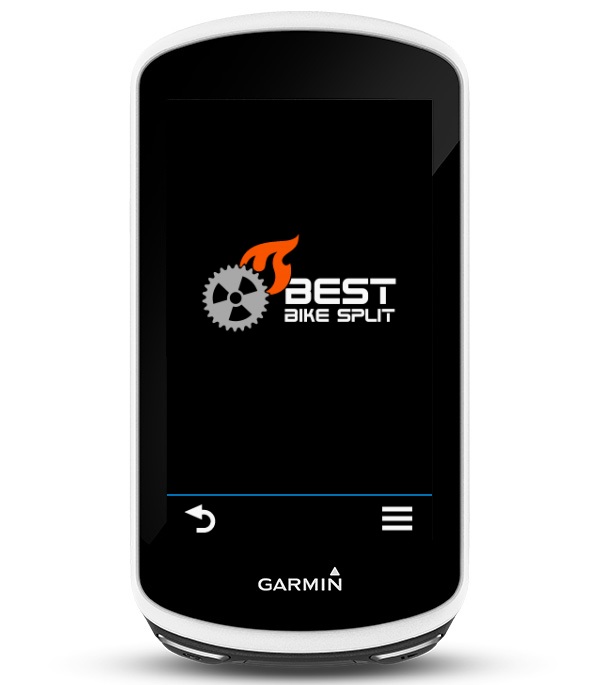 Personnalisez votre appareil
Il est très simple de personnaliser votre Edge 1030 avec les applications, widgets et champs de données gratuits téléchargeables dans notre boutique Connect IQ. Par exemple, l'application AccuWeather vous indique quand la pluie va cesser de tomber et quand vous pourrez sortir pédaler. L'application MPA and Power de Xert vous avertit immédiatement lors que vous dépassez votre puissance maximale. De nombreux champs de données configurables affichent vos statistiques préférées sur un écran facile à lire.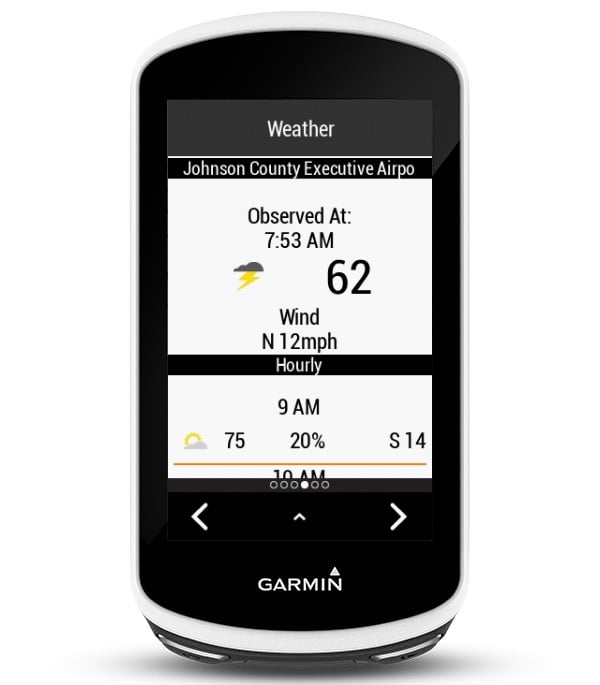 1Doit être couplé avec un téléphone compatible
2L'autonomie de la batterie peut varier en fonction de l'utilisation.
3Doit être couplé avec un téléphone compatible; La fonction GroupTrack peut suivre jusqu'à 50 personnes. 
4Uniquement sur les appareils Android
5Doit être couplé avec un téléphone compatible; Développé principalement pour le cyclisme sur route. 
Wi-Fi® est une marque commerciale enregistrée de Wi-Fi Alliance.; La marque et les logos Bluetooth® sont la propriété de Bluetooth SIG, Inc. Toute utilisation de ces marques par Garmin fait l'objet d'une licence.
Caractéristiques physiques et performances
Général
| | |
| --- | --- |
| Dimensions physiques | 58 x 114 x 19 mm |
| Poids | 123 g |
| Degré de résistance à l'eau | IPX7 |
| Batterie | rechargeable, lithium-ion |
| Ecran tactile | Yes |
| Format d'affichage (largeur par hauteur) | 58 x 114 x 19 mm ; 88,9 mm (diagonale) |
| Définition d'écran (largeur par hauteur) | 282 x 470 pixels |
| Ecran couleur | Yes |
| Autonomie de la batterie | jusqu'à 20 heures |
Cartes et mémoire
| | |
| --- | --- |
| Possibilité d'ajouter des cartes | Yes |
| Carte de base | Yes |
| Accepte les cartes mémoire | 16 GB plus microSD™ |
| Waypoints | 200 |
| Itinéraires | 100 parcours |
| Historique | up to 200 hours |
Fonctions de l'horloge
Capteurs
| | |
| --- | --- |
| GPS | Yes |
| GLONASS | Yes |
| Altimètre barométrique | Yes |
| Accéléromètre | Yes |
Fonctions intelligentes quotidiennes
| | |
| --- | --- |
| Smart Notifications | Yes |
| Télécommande VIRB® | Yes |
Fonctions de suivi des activités
Fonctions d'entraînement, de planification et d'analyse
| | |
| --- | --- |
| Pages de données personnalisables | Yes |
| Auto Pause® | Yes |
| Entraînements avancés | Yes |
| Auto Lap® | Yes |
| Virtual Partner | Yes |
| VO2 max. | Yes |
| Training Effect (aérobie) | Yes |
| Virtual Racer™ | Yes |
| Défilement automatique | Yes |
Fonctions pour le cyclisme
| | |
| --- | --- |
| Activités (comparaison par rapport à d'anciennes activités) | Yes |
| Alarme de temps/distance (déclenche une alarme lorsque vous atteignez votre objectif) | Yes |
| Entraînements fractionnés | Yes |
| Compatible avec le Vector™ | Yes |
| Compatible avec un capteur de puissance (affiche des données de puissance issues des capteurs de puissance compatibles ANT+™) | Yes |
Garmin Connect™
| | |
| --- | --- |
| Compatible avec Garmin Connect™ (communauté en ligne avec laquelle vous pouvez analyser, classer et partager des informations) | Yes |
| Synchronisation automatique (transfère automatiquement les données sur votre Garmin Connect) | Yes |
Autres
En plus

Connectivité : Wi-Fi®, ANT+™, Bluetooth®
Capteur de luminosité ambiante
Compatible avec les capteurs de puissance intégrés
Rationalisation de la configuration via l'application
Mesures physiologiques
Données de puissance avancées
Segments : Strava
Fonctions connectées : téléchargement, LiveTrack, météo, notifications, détection des incidents, GroupTrack, invites sonores, envoi de messages entre cyclistes
Accès à des applications tierces : via Connect IQ, y compris Strava et TrainingPeaks
Carte Garmin Cycle Map préchargée
Suivi du FTP/des watts/des kg
Statut d'entraînement/charge d'entraînement
Navigation via l'appareil, applications, itinéraires populaires et recalcul
API ouvertes disponibles pour certains partenaires
Montre fēnix™ 3, Gray – Performer - HRM-Run™
fēnix® 3 - montre noire avec bracelet noir
Ceinture HRM-Run
Câble USB/de chargement
Adaptateur secteur
Documentation produit
Montre fēnix™ 3, Silver - Performer - HRM-Run™
fēnix® 3 - montre argent avec bracelet rouge
Ceinture HRM-Run™
Câble USB/de chargement
Adaptateur secteur
Documentation produit