"I can't say enough how easy this transaction was. The item was at my door in 2 days. Thank you very much!" Etobicoke ON > read more...

"Je ne trouve pas tous les mots pour dire combien cette transaction a été facile. L'item était à ma porte en 2 jours. Merci beaucoup!" Etobicoke ON > voir plus...
Garmin vívosmart HR
Garmin vívosmart HR
$179.99
Smart Activity Tracker with Wrist-based Heart Rate
Sleek band is comfortable to wear all day, and the always-on display shows your stats, even in sunlight
Displays steps, distance, calories, heart rate, floors climbed and activity intensity
Receive text, call, email, calendar and social media alerts²
Control your music and your VIRB® action camera (sold separately) all from your wrist
Reminds you to stay active with move bar and vibration alert
Wrist-based Heart Rate
vívosmart HR smart activity tracker¹ with Elevate™ wrist heart rate technology¹ measures heart rate at the wrist 24/7. That gives you the freedom to work out with no additional heart rate strap needed. Using heart rate, vívosmart HR provides calories burned information and quantifies the intensity of your fitness activities, providing better credit for your efforts. You can even use your vívosmart HR as a heart rate strap on your wrist when paired with other compatible Garmin devices.
More Than Just Steps
In addition to measuring steps, calories and distance, vívosmart HR measures floors climbed with its integrated barometric altimeter. Whether you're going for a jog or trying out a new boot camp class, it measures your activity intensity with intensity minutes. This feature lets you monitor your progress against activity goals recommended by health organizations such as the American Heart Association, U.S. Centers for Disease Control and Prevention and the World Health Organization.
Smart Capabilities
Stay active and connected with vívosmart HR activity tracker. Each time you receive a notification from your compatible smartphone, it gently vibrates and automatically displays the information. Simply touch and swipe the screen to read more. Other connected features allow you to control music and your VIRB action camera (sold separately) or find your misplaced phone.
Beat Yesterday, Every Day
vívosmart HR learns your current activity level, then assigns an attainable daily step goal. As you meet your milestones, it will adjust your goal for the next day, gradually nudging you toward a healthier lifestyle. Throughout your day, it reminds you to stay active with a move bar and vibration alert if you've been inactive for 1 hour. Go for a short walk to reset the inactivity timer.
Get Connected
vívosmart HR activity tracker automatically syncs with your smartphone throughout the day to save your stats to our free online community. At Garmin Connect™, you can save, plan and share your activity and beat yesterday in your daily step count. Connect with other users to challenge and compete. For detailed calorie tracking, you can create an account at MyFitnessPal and link it to your Garmin Connect account. This allows you to compare calories consumed to total calories burned, which vívosmart HR records throughout the day.
¹Activity tracking accuracy
²When paired with a compatible smartphone
Device wear and care
Physical & Performance
| | |
| --- | --- |
| Physical dimensions | Band sizes: 136-187 mm (Regular); 180-224 mm (X-large); Width: 21.0 mm; Thickness: 12.3 mm |
| Display size, WxH | 1.00" x 0.42" (25.3 mm x 10.7 mm) |
| Display resolution, WxH | 160 x 68 pixels |
| Touchscreen | yes |
| Negative mode display | yes |
| Weight | 29.6 g (1.0 oz), Regular; 32.0 g (1.1 oz), X-large |
| Battery | Rechargeable lithium battery |
| Battery life | Up to 5 days |
| Water rating | 5 ATM |
| Barometric altimeter | yes |
| Smart notifications (displays email, text and other alerts when paired with your compatible phone) | yes |
| Vibration alert | yes |
| Music control | yes |
| Find my phone | yes |
| VIRB® control | yes |
| Watch functions | time, date, calendar, and alarm |
Running Features
| | |
| --- | --- |
| Accelerometer (calculates distance for indoor workouts, without need for a foot pod) | yes |
Performance Features
| | |
| --- | --- |
| Heart rate monitor | Yes (wrist-based) |
| Auto Lap® (automatically starts a new lap) | yes |
| Heart rate-based calorie computation | yes |
| Calculates calories burned | yes |
| Customizable screen(s) | yes |
| Shock Resistant | yes |
Activity Tracking Features
| | |
| --- | --- |
| Step counter | yes |
| Auto goal (learns your activity level and assigns a daily step goal) | yes |
| Move bar (displays on device after a period of inactivity; walk for a couple of minutes to reset it) | yes |
| Sleep monitoring (monitors total sleep and periods of movement or restful sleep) | yes |
Garmin Connect™
| | |
| --- | --- |
| Garmin Connect™ compatible (online community where you analyze, categorize and share data) | yes |
| Automatic sync (automatically transfers data to your computer) | yes |
Additional
Additional

MoveIQ: yes
Calculates floors climbed: yes
Intensity minutes: yes
Wireless Connectivity: yes (ANT+™ and Bluetooth Smart)
Regular or X-large vívosmart HR, depending on version selected
Charging/data clip
Documentation
Tracker d'activité intelligent avec fréquence cardiaque au poignet
L'élégant bracelet est confortable à porter toute la journée, et l'écran activé en permanence affiche vos statistiques, même en plein soleil
Affiche les pas, la distance, les calories, la fréquence cardiaque, les étages gravis et l'intensité de l'activité
Recevez des alertes pour les SMS, les appels, les e-mails, le calendrier et les réseaux sociaux²
Contrôlez votre musique et votre caméra embarquée VIRB® (vendue séparément) depuis votre poignet
Barre de mouvement et alerte par vibration pour vous rappeler de rester actif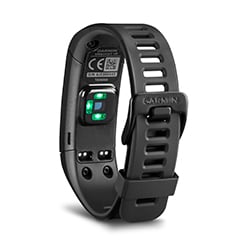 Fréquence cardiaque au poignet
Le tracker d'activité intelligent vívosmart HR¹ avec la technologie de fréquence cardiaque Elevate™ mesure la fréquence cardiaque au poignet 24h/24, 7j/7. Il vous donne la liberté de vous entraîner sans ajouter de sangle de fréquence cardiaque. A l'aide de la fréquence cardiaque, vívosmart HR fournit des informations sur les calories brûlées et quantifie l'intensité de vos activités sportives, pour une meilleure évaluation de vos efforts. Vous pouvez également utiliser votre vívosmart HR en tant que sangle de fréquence cardiaque sur votre poignet avec d'autres appareils Garmin compatibles.
Plus que de simples pas
Outre la mesure des pas, des calories et de la distance, vívosmart HR mesure les étages gravis grâce à son altimètre barométrique intégré. Que vous alliez nager ou essayiez un nouveau bootcamp, il mesure l'intensité de votre activité grâce à des minutes d'intensité. Cette fonction vous permet de contrôler votre progrès par rapport aux objectifs d'activité recommandés par des organismes de santé tels que l'American Heart Association, les U.S. Centers for Disease Control and Prevention et l'Organisation mondiale de la santé.
Fonctionnalités intelligentes
Restez actif et connecté avec le tracker d'activité vívosmart HR. Chaque fois que vous recevez une notification depuis votre smartphone compatible, il vibre légèrement et affiche automatiquement les informations. Il suffit alors de toucher l'écran et de glisser le doigt pour en savoir plus. D'autres fonctionnalités connectées vous permettent de contrôler la musique et la caméra embarquée VIRB (vendue séparément) ou de retrouver votre téléphone perdu.
Mieux chaque jour
vívosmart HR interprète votre condition physique actuelle et vous propose un objectif de pas quotidien réalisable. Lorsque vous franchissez une étape, il définit un nouvel objectif pour le lendemain et vous encourage ainsi à adopter un style de vie plus sain. Tout au long de la journée, il vous rappelle de rester actif grâce à une barre de mouvement et une alerte par vibration si vous restez inactif pendant 1 heure. Faites une petite promenade pour réinitialiser le compteur d'inactivité.
Connectez-vous sans plus attendre
Le tracker d'activité vívosmart HR se synchronise automatiquement avec votre smartphone tout au long de la journée pour enregistrer vos statistiques dans notre communauté en ligne gratuite. Dans Garmin Connect™, vous pouvez enregistrer, planifier et partager votre activité et améliorer votre nombre de pas quotidien chaque jour. Connectez-vous avec d'autres utilisateurs pour lancer des défis et vous mesurer à eux. Pour un suivi détaillé des calories, créez un compte MyFitnessPal et associez-le à votre compte Garmin Connect. Ainsi, vous comparerez les calories consommées avec le nombre total de calories brûlées que vívosmart HR enregistre au cours de la journée.
¹Précision du suivi des activités
²Si couplé avec un smartphone compatible
Caractéristiques physiques et performances
| | |
| --- | --- |
| Dimensions physiques | Tailles de bracelet : 136-187 mm (normale) ; 180-224 mm (XL) ; Largeur : 21,0 mm ; Epaisseur : 12,3 mm |
| Format d'affichage (largeur par hauteur) | 25,3 mm x 10,7 mm |
| Définition d'écran (largeur par hauteur) | 160 x 68 pixels |
| Ecran tactile | Oui |
| Ecran couleur | Non |
| Affichage à contraste négatif | Oui |
| Poids | 29,6 g, normal ; 32,0 g, XL |
| Batterie | Batterie rechargeable au lithium-ion |
| Autonomie de la batterie | Jusqu'à 5 jours |
| Degré de résistance à l'eau | 5 ATM |
| GPS | Non |
| GLONASS | Non |
| Altimètre barométrique | Oui |
| Smart Notifications (affichage des e-mails, SMS et autres alertes que vous recevez lorsque vous le couplez avec un téléphone compatible) | Oui |
| Alerte vibration | Oui |
| Fonction musique | Oui |
| Trouver mon téléphone | Oui |
| Télécommande VIRB® | Oui |
| Fonctions de montre | Heure, la date , le calendrier et alarme |
Fonctions pour la course à pied
| | |
| --- | --- |
| Accéléromètre (calcul de la distance lors d'entraînements en salle, sans passer par un Foot Pod) | Oui |
Fonctions pour la course à pied et le cyclisme
| | |
| --- | --- |
| Moniteur de fréquence cardiaque | Oui (au poignet) |
| Auto Lap® (lance automatiquement un nouveau circuit) | Oui |
| Calcul des calories à partir de la fréquence cardiaque | Oui |
| Calcul des calories brûlées | Oui |
| Ecran(s) personnalisable(s) | Oui |
| Résistant au choc | Oui |
Fonctions de suivi des activités
| | |
| --- | --- |
| Compteur de pas | Oui |
| Objectif automatique (interprète votre niveau d'activité et définit un objectif quotidien en nombre de pas) | Oui |
| Barre d'activité (s'affiche sur l'appareil après une période d'inactivité ; marchez quelques minutes pour la réinitialiser) | Oui |
| Analyse du sommeil (surveille le nombre total d'heures de sommeil, qu'il s'agisse de sommeil profond ou de sommeil agité) | Oui |
| | |
| --- | --- |
| Compatible avec Garmin Connect™ (communauté en ligne avec laquelle vous pouvez analyser, classer et partager des informations) | Oui |
| Synchronisation automatique (transfère automatiquement les entraînements sur votre ordinateur) | Oui |
Autres
En plus

Calcule les étages gravis : oui
Minutes d'intensité : oui
Technologie de fréquence cardiaque au poignet Garmin Elevate™


 
vívosmart HR normal ou XL, en fonction de la version sélectionnée
Clip de chargement/données
Documentation
More items to consider:
Plus d'items à considérer: